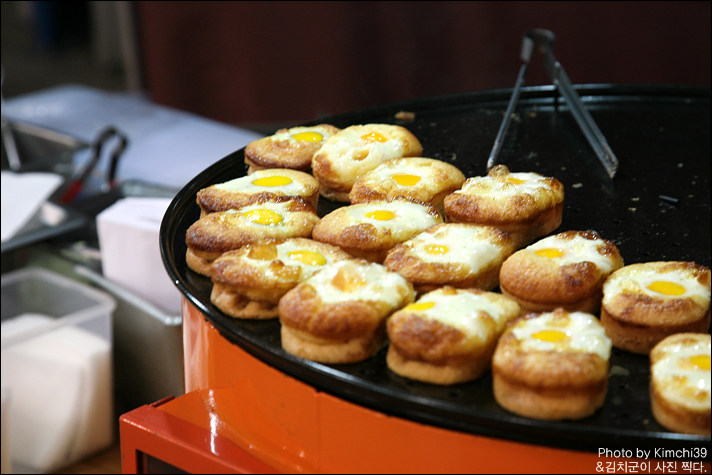 계란빵 (GyeRanBang) known as Egg Cake/Egg Muffin, is a common winter street snack in Korea.
It consists of very basic ingredients like cake flour, sugar and egg.
I simply love this hot little snack and it taste a little sweet too!
Cant resist my temptation since I'm back in Singapore, I decided to find the recipe and bake it.
계란빵 "GyeRanBang" (Egg Cake) Recipe (can make 6 pieces)
(via KFood Addict)
The bottom bread
– 3/4 Cup Self-Rising flour (100g). or Multi-flour 100g with 1/4 Tsp of baking powder
– 1 Egg
– 1/2 Cup Milk
– 4 Tsp Sugar
– 1/4 Tsp Salt
– 1 Tsp Butter (or Olive oil)
– 1/5 Tsp Vanilla essence – Optional
For the filling:
– 6 Eggs
– 1 Bacon slice
– Ground parsley (I skip this as I can't find any at home)
– Salt
Baking Steps:
1. Mix the flour with 4 Tsp of sugar, 1/4 Tsp of salt in a bowl.
2. Crack an egg into a bowl. Mix well.
3. Add the milk little by little into a bowl while stirring until it turns to a nice thick flour base
4. Coat the oil all side of baking pan. (oil spray recommended)
5. Pour the flour base into oval shape baking pan 1/3 much.
6. Crack the eggs one by one into each hole.
7. Put chopped bacon and a little bit of ground parsley on the top. A pinch of salt for flavor.
8. Bake it for 10-15 minutes at 180-200 degree.
Tips
– It's good to fill the baking pan 1/3 full with flour base. If you add more than that, the egg will run over.
– Before filling the baking pan, spray(coat) the pan with some oil. It helps to take bread out easily from the hole after baking.
– If you don't have baking pan, you can use a paper cup instead.
– You can sprinkle a little pepper on top to give the egg a little more fragrance as well!
YES! I used cute polka dot paper-cups instead since I couldn't find my baking pan.
*TATA*

It's really a simple snack to bake! Do give it a try if you want to bake something simple! (^o^)
xoxo,
yyann