Fact: Do you know that Sobaeksan is the third largest mountainous national park in Korea following right after Jirisan and Seoraksan. This place is also known as the no. 18th National Park in Korea!
I know there's tonnes of mountain in Korea(in fact many of the locals love trekking too!)!
There's a total of 37 mountains ALONE just in Seoul. :O
(click to read more of Sobaeksan)
**back to Sobaeksan**
There's NO bag locker right here for us to put our bags and 'shopping' loot though. But we were thankful to the park ranger who allowed us to store our stuffs for the short span of 4 hours. 😀
Anyway, I was pretty excited to the climbs(LOL!); but it seems like every's bound to have something happening to me before each climb whenever I'm in Korea eh(?!?).. (except for ONCE)
But nevertheless, it's always the company that you have keep you 'climbing'. 😀
We were told that the trekking routes in Korea were divided into 4 different gradings (Grade A -'hardest' to Grade D-'easiest') and Sobaeksan is consider a Grade C!

My source of energy: Vitamin water and a pair of good shooes

(and a positive mind! :P)
Our first cross-junction that gave us a shocked. HAHAHAHA

after 30mins, we're still climbing…..

*TATA*

This is the well-known Huibang Waterfall, which was located 700m above sea level.(heard this is consider half-way sitting up Sobaeksan Mountain though.)
This waterfall is consider the largest one in the central inland region of Korea too~

As usual, there goes everyone trying to take a selca..

 It's pretty cold cooling over here to be honest. Around 15-18degrees?
Random snapshots while climbing..

This is really beautiful..
Just a pity we didn't managed to climb all the way up. 😦


Decided to take a break and this is what happen to bloggers in the woods.LOLS!

But the connection here was pretty good! *thumbs up*
Heading back down the route, we made decided to de-tour to Huibangsa Temple (희방사).

History:
The temple was built by the Great Monk Duwun in the 12th year (643) of Queen Seondeok's reign during the Silla Dynasty. The temple used to preserve a wooden printing block for Weolinseokbo vol.1 & 2 (a biography of Buddha), but it was destroyed when the temple burned down during the Korean War. Recently, the wooden printing block has been recreated. Near the entrance of the temple is a natural forest that creates beautiful shadows when the sunlight hits the trees. (source from Visitkr)
Pretty lanterns filled with wishes.(you can get one by donating too)

Do Not Ring the bell~

As usual, the stack stones in the woods.

Wishing 'bowl' 😛

Tiles Donation.

This is something interesting which I learnt from a monk back in Busan.
You can pick up these tiles and start writing wishes or notes with any amount of donation.
(Please be realistic with the funds as it helps to maintain the temple)
And guess what happens after that…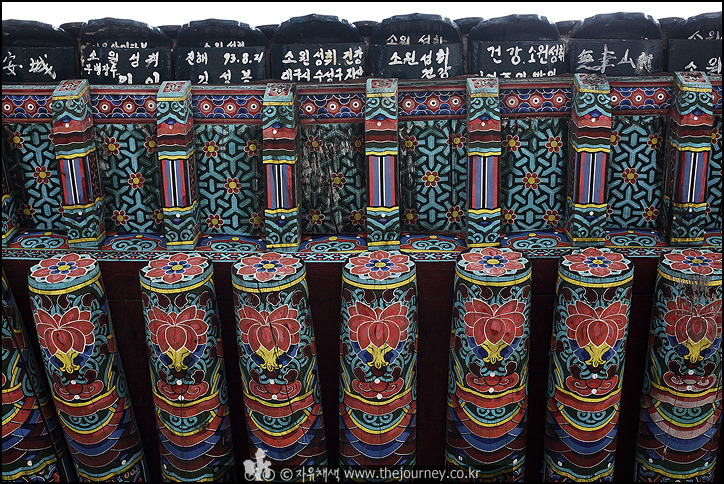 YES! Those Your donated tiles will be used as part of the building/maintence. 🙂
This is really something nice though.
ㅋㅋㅋㅋㅋㅋㅋㅋㅋ

 It was pretty funny for us to find a mini-snack store that sells ice-cream in the middle of this mountain. (Well, there got to have people maintaining the temple! Just a few drinks and ice-pops though)

Happy us(ignore my <s>kuku</s> unglamface)
HAHAHAHAHAHA

Men's talk. 😛
It's time for us to head back down the mountain once we finished our 'snack' and heading towards another destination.
Shall end the entry off with a last shot of Huibang waterfalls.

Really really ❤ the nature. 🙂
If you have time to spare, do challenage yourself to this trekking route.
I hope I will have spare time in the future to conquer this mountain though.
We shall meet again, 소백산! 😀
Sobaeksan National Park (소백산국립공원)
Punggi-eup, Yeongju-si, Gyeongsangbuk-do
경북 영주시 풍기읍 봉현면, 순흥면, 단산면, 부석면, 충북 단양군
Entrance Fee: 2,000won
Cab Fee(From Punggi Ginseng Market) : 15,000won
xoxo,
yyann
Special Thanks to the following Sponsors that made this trip happen:
– Korea Tourism Organization (Singapore)
– EG Sim Card